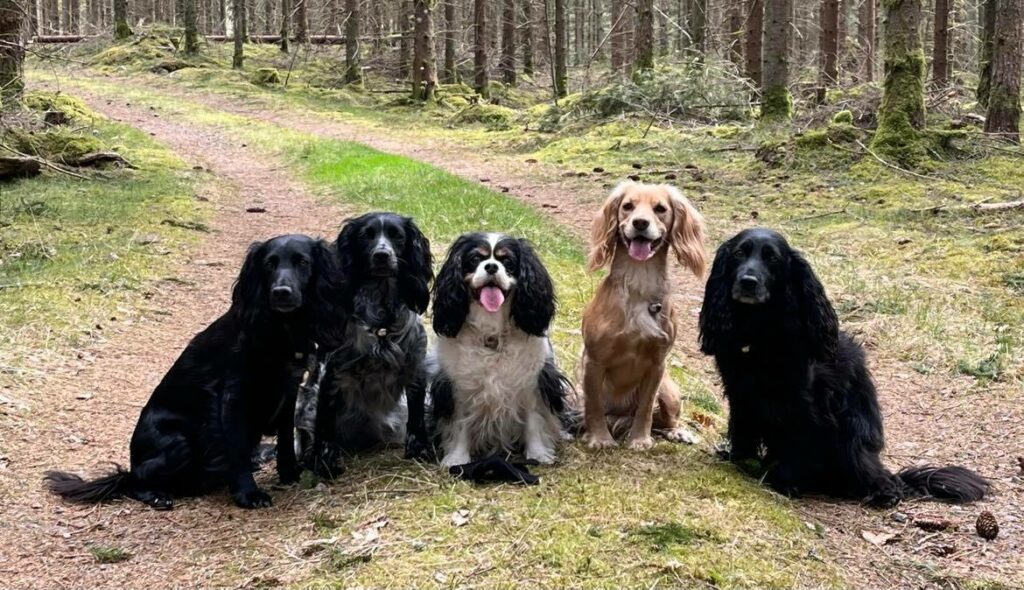 Alily Spaniels finns på landet i nordöstra Skåne. Alily Spaniels flocken består av en Cavalier King Charlestik som heter Lydia samt 4st cockerspanieltikar av jakttyp, Joi och hennes dotter Zelda samt Zeldas döttrar Zinya och Zibell.
Jois son Nosler, Alily's Amazing Ace, ingår oxå i kenneln, men bor hos Therese och Peter i Uppsala.
Namnet Alily Spaniels kommer från Alice = "Ali" och Lydia = "Ly", mina älskade cavaliertjejer som hjälpte till att grunda kenneln när den registrerades 2012 hos FCI ❤️
Sedan betyder ju "a lily", en lilja, så då blev det "lilje-spanielarna"… Och det passar ju bra, en underbar blomma förknippad med en underbar spanielras 🌸❤️🌸
Uppfödningen sker i liten skala i hemmiljö, där valparna får vara med mig och mina vuxna hundar så mycket som möjligt från c:a 4 veckors ålder fram tills att de flyttar till sina nya hem! 😍

---
About us
Alily Spaniels is situated in the country side in the northeast part of Scania, a region in the most southern part of Sweden. In the Alily Spaniel's pack there are a Cavalier King Charles bitch called Lydia and 4 working cocker bitches, Joi and her daugther Zelda and Zeldas daughters Zinya and Zibell.
Jois son Nosler, Alily's Amazing Ace, is also a part of the kennel, but he lives together with Therese and Peter in Uppsala.
The name Alily Spaniels comes from Alice = "Ali" and Lydia = "Ly", my beloved cavalierbitches that helped to establish the kennel when it was registered at FCI in 2012 ❤️
Then add to the fact that the lily flower is a lovely flower and a lovely flower associated with my dogs, that makes sense 🌸❤️🌸

The breeding is carried out in a small scale in a home environment. The puppies are living together with me and the pack as much as possible from approx. 4 weeks of age, until they move to their new homes! 😍