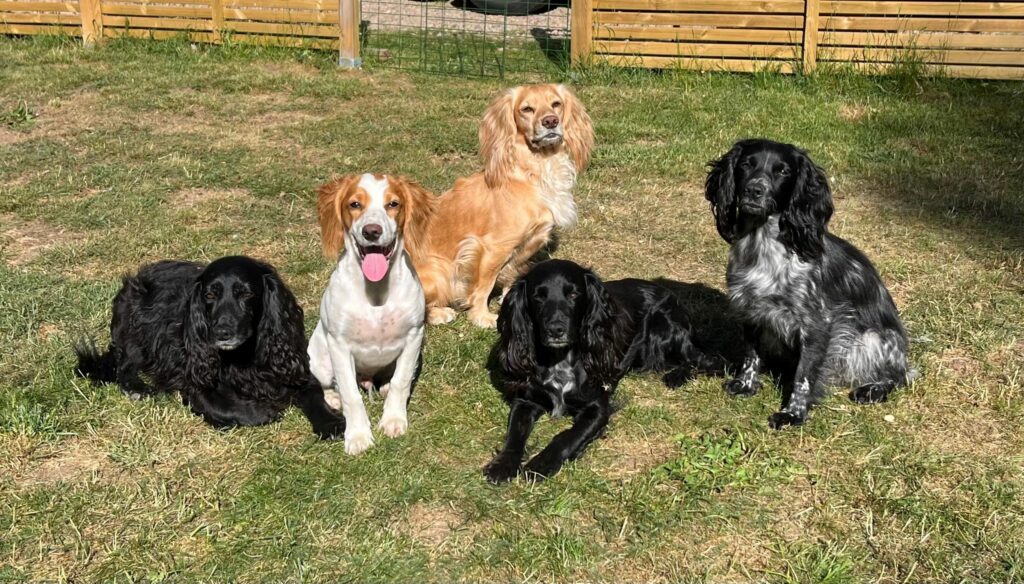 Alily Spaniels finns på landet i nordöstra Skåne. Alily Spaniels flocken består av fem cockerspaniels av jakttyp; Joi, Jois dotter Zelda, Zeldas döttrar Zinya och Zibell samt Zinyas son Pix.
Jois son Nosler, Alily's Amazing Ace, ingår oxå i kenneln, men bor hos Therese och Peter i Uppsala.
Namnet Alily Spaniels kommer från Alice = "Ali" och Lydia = "Ly", mina älskade cavaliertjejer som hjälpte till att grunda kenneln när den registrerades 2012 hos FCI ❤️
Sedan betyder ju "a lily", en lilja, så då blev det "lilje-spanielarna"… Och det passar ju bra, en underbar blomma förknippad med en underbar spanielras 🌸❤️🌸
Uppfödningen sker i liten skala i hemmiljö, där valparna får vara med mig och mina vuxna hundar så mycket som möjligt från c:a 4 veckors ålder fram tills att de flyttar till sina nya hem! 😍

---
About us
Alily Spaniels is situated in the country side in the northeast part of Scania, a region in the most southern part of Sweden. In the Alily Spaniel's pack there are five working cockers; Joi, Joi's daughter Zelda, Zelda's daughters Zinya and Zibell and Zinya's son Pix.
Jois son Nosler, Alily's Amazing Ace, is also a part of the kennel, but he lives together with Therese and Peter in Uppsala.
The name Alily Spaniels comes from Alice = "Ali" and Lydia = "Ly", my beloved cavalierbitches that helped to establish the kennel when it was registered at FCI in 2012 ❤️
Then add to the fact that the lily flower is a lovely flower and a lovely flower associated with my dogs, that makes sense 🌸❤️🌸

The breeding is carried out in a small scale in a home environment. The puppies are living together with me and the pack as much as possible from approx. 4 weeks of age, until they move to their new homes! 😍